Tattooing has become unimaginably popular. It's here to stay now that it has become easier to find professional and experienced tattoo artists.
Things weren't this accessible a few years or even decades back. Only rich people could afford this kind of treatment. But now, with the introduction of new technologies, we can see more and more people getting tattooed. And among all the tattooing options, the white ink tattoo is one of the most popular ones. For the unversed, a white ink tattoo is usually associated with the symbolism of purity and innocence.
White ink tattoos have been around for quite some time now. They were first introduced as a tattoo technique in the 1970s. But, it was not until the early 2000s that white inks started to become more popular— making more sense to people with dark skin tones.
Yet, the concerns, associated with this relatively new idea remained. How much ink to use, which skin tone to target, how much of a flaking skin effect to expect, any specific healing process, and more. Consider all that in the past now.
Today, we will provide you with all the details you need to know before you get white ink tattoo designs inked. During the course of this discussion, we are going to discuss every pressing question: Are they better than black ones? What are the advantages of having a white-ink tattoo? And the inconveniences? Let's dig into it.
What are White Ink Tattoos
White ink tattoos are completely done in white ink. The tattoo is not visible to the naked eye but can be seen through special light. It is a delicate and subtle look and is often done for the sake of beauty. White ink tattoos are popular among women and can be found on the back, shoulder, or wrist area.
White Tattoos vs Black Tattoos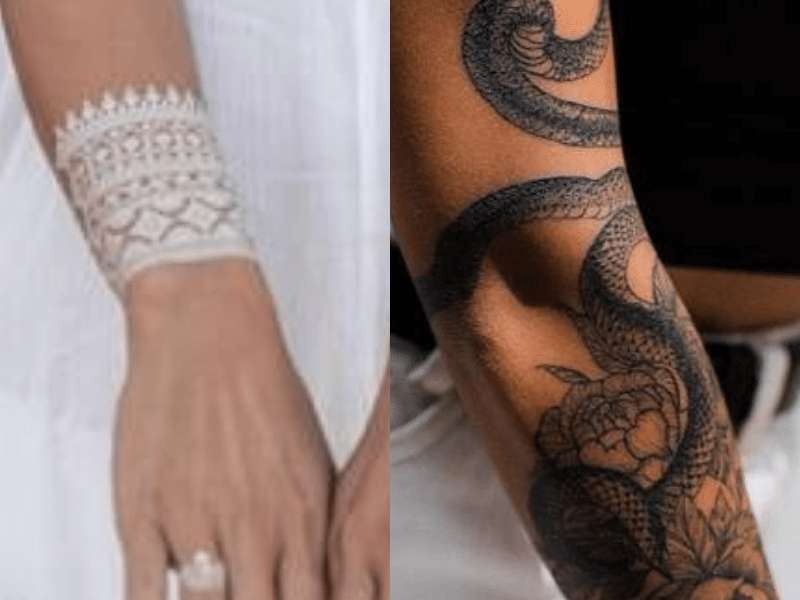 Before we get into details about the pros and cons of a white ink tattoo, you must also know how it is different from other inks. And particular, what is the difference between black ink color and white ink?
There is a great deal of confusion among many people about the two kinds of tattoos. The main difference between them is the color of the ink. Although you may find tattoos created in other colors also such as red tattoos, the most common are black and completely white.
Black ink designs are challenging to hide unless you cover them with clothes or accessories. In fact, a white ink tattoo is not always detectable, while black ink tattoos are notable whether you have brown, white, or black skin. Especially black skin!
Another interesting nugget is that black tattoos remain fresh for a more extended period. They never fade away. Instead, they are always in plain sight.
For a white ink tattoo, you must know that it loses its strength after a few years, eventually vanishing off the skin. What's left are scars. And those bruisers would be visible even without flashing the black light.
Do White Ink Tattoos Raise our Skin
White ink tattoos do not raise skin more than black ones. In fact, the raised skin is more evident due to the color being white.
The white-ink tattoos start to fade with the passing of time and leave scar tissue on the skin. In some cases, the tattoo artist makes getting a white tattoo or rather the outlining more prominent compared to others. This means placing the tattoo ink near the skin's surface.
Also, it's important to understand that there are different types of tattoo ink. White ink is the safest and has the lowest color saturation. On the other hand, black ink tattoo has the highest color saturation. That sums up the fact: if you want to be on the safer side, get a white ink tattoo.
For highlighting, black ink tattoos are preferred. In fact, blackout tattoos with white ink are thicker and lighter than other tattoos. That would prevent smudging and help the artist better execute the idea.
Pros of White Ink Tattoo
Some people love the look of white tattoos. These tats bring dimension into the picture. They feel it's easier to blend with the skin. If you have a white ink tattoo or if you are an artist who has a specific idea, you know how amazing it feels to have a clean canvas to work on.
It can also be easier to blend colors if you have a white ink tattoo. If you are going for your first tattoo, the first consideration has to be your skin tone. If you have darker skin, then nothing is as best as a white ink tattoo. But in the case of pale skin color, go for other ink colors.
Not in dilution but personally speaking, research and use a collection that's exclusive. The effects will be apparent.
However, before you plan for a white tattoo it is important to know its benefits and look out for various designs to finalize the best one as per your choice. It is crucial to zero in on a good artist, the choice of dark color, and the sunscreen you might be using after getting inked. It all comes down to the informed decision you make.
Intrigued already! Let's take a look at the pros and cons of white ink tattoos making white tattoos a great option for modern men and even women.
White Ink Tattoo Design is easy to hide
Tattoos are an expression of self. If you love your tattoo, you should enjoy it and let others admire it. Still, you have to be careful when choosing a tattoo design that you want to keep secret or prefer to reveal.
The reason is that you do not want people to see your tattoo and get offended. And that is where the pale, white ink tattoo design comes in handy.
The best part of getting a white tattoo is you can easily hide them, as part of your skin surface. It depends on the different skin types but most white inks are easy to hide.
They are impressive and unique
White ink tattoos are truly amazing. They are very unique, and they really stand out from the crowd of various other designs of regular tattoos. They look beautiful and have the ability to glow at night. Additionally, they are easy to maintain and inexpensive.
In the past, white tattoos were considered rare. However, with the popularity of tattoos, white tattoos are becoming more common.
There are a few reasons why such tattoos are gaining popularity. First, white is a very versatile color. Not bright, but versatile.
If you are looking for a tattoo that is going to be permanent, a white tattoo is a good option. White is the perfect choice if you want to try out a new design without the fear of visible skin damage and a design that's way too bright. Also, every professional tattoo artist who has a great experience with white ink makes a unique piece.
A white ink tattoo is considered to be delicate and a great idea for newbies.
White Ink Tattoos Tend to Fade Away With Time
Almost all have the confusion that does white ink tattoos fade or how long do white tattoos last. Such tattoos are considered to be gradually permanent. One thing to note: White ink tattoos fade away and become less visible. Yet, there are ways to ensure that these tattoos from fading.
For instance, you can apply a special coating that keeps the color intact and this results to prevent the ink from vanishing over time.
There are many reasons why white ink tattoos will naturally form on your skin. First, white ink is a mixture of lead and other chemicals: hence impermanent. They will be removed from your body as the tattoo ages.
Second, if you get the tattoo removed, the ink will be replaced with your own blood and this will eventually get absorbed by the skin, making it fade away.
White Tattoos Are More Elegant And Subtle
White tattoos are more subtle than black ones, period. One, you can easily hide them if needed. Secondly, if you're from a conservative family, you may be more reluctant to get one because you don't want to upset your relatives.
The most important thing about white tattoos is that they blend organically. When applied to the skin, they create a soft and subtle look. Plus, they can contrast colored tattoos, like ones in red or even yellow. They are also less noticeable and thus, they are perfect for women who prefer discretion.
It can be a good choice if you are looking for something to show off or want to have something that will stay forever. Although, a white ink tattoo is a delicate option that must require aftercare to avoid unpleasant situations.
Better Chance at getting a Job
A black-inked tattoo is more prominent than a white ink tattoo. Sounds good, right? Nope. On the contrary, this may cause a hindrance when seeking a job. Some companies may even ask you to cover your tattoos with a long-sleeved shirt or long pants, provided the job interview sticks and they feel like hiring.
However, if you have a white ink tattoo, you probably won't have to worry. The recruiters might not be even aware.
If you have a tattoo, it's probably a pretty big deal for you. And, so is the job. This, more often than not, makes you unsure. Especially true if you have tattoos on your arms or neck, which aren't as hidden and reveal themselves organically.
Considering all the mentioned aspects, a white tattoo is less noticeable on the body than a black one. Therefore, you can be more open about the art itself, without putting your career in jeopardy.
Your White Ink Tattoo Will Look Awesome At Night
UV Light Ink— as a highlighter ink— adds a vibrant and dramatic effect to the white ink tattoo. It is safe for all skin types and colors.
You can also use UV Light Ink for highlighting white ink tattoos. Clean lines designed in UV ink are much brighter. More so when you have dark skin. You will experience the glow of white-inked tattoos at night, even with small amounts of UV addition.
Cons of White Ink Tattoo
White Ink Tattoo Designs are really popular. Most people love them. Yet, not everyone can get their hands on them due to their limited nature.
White Tattoo is not as popular as black ink tattoo, but they do have their advantages. Some people have white tattoos because they want them to stand out.
They are less expensive than black ink tattoos, which is a matter to consider. Plus, you can get them done at any tattoo studio. But then, the disadvantage is that it's harder to find white ink tattoo artists who are actually good at the art.
Not All The Tattoo Artists Will Ink It
You may also find that some tattoo artists are unwilling to draw white designs. Reason: the white design is not as popular as the black one. Most tattoo artists prefer inking a black design first and then using the needle to properly ink the white design and other colors on top of it.
Inking tattoos requires a lot of patience and an eye for detail. As for the artist, it is important to get in touch with someone sensitive, who has some inspiration backing the job, and who knows a lot about white tattoo healing.
If you want a tattoo done perfectly, you need to find a professional tattoo artist who is willing to create a unique white tattoo.
They Might Be Mistaken For Scars
You must have noticed that there are many people who have white ink tattoos on their faces. Yes, you read that part of the article, right?
White ink tattoos are very light in color, but they look skin raised to some extent. And this swelling phenomenon can sometimes be mistaken for scars.
It's important to note that white ink tattoos look like scars especially when they start getting old and start to scab. Once the fading part is taken care of, your white-inked tattoo will remain recognizable, though the design might get totally disrupted.
White Tattoos Fade Away
Sun is one of the biggest enemies of white tattoos. And the shade is the one sensitive friend. So, if you want them to last longer, try and avoid sunlight exposure. You can easily do this by covering the tattoo with a layer of sunscreen lotion or cream, which will protect it from harmful rays.
White ink tattoo fading away is an advantage but can also be an inconvenience, and for valid reasons. First, they are quite elegant when inked, but, in time, they start looking like scars, all thanks to the fading. Sunlight plays a significant role in diluting tattoos— something that we already established throughout this article.
Hence, hiding your tattoo from direct sunlight will keep it in good stead. Permanent tattoos are some of the most popular types of body art. Yet, they have their own risks— depending on the process. The permanence of the tattoo is the biggest risk, and that is why we recommend you take precautions.
White Tattoos Tend To Tan Like Your Skin Color
White Tattoos fade and tan just like skin. If you have a tattoo that's been in place for years, you may experience hardy pigments on it just like you get on your skin. And trust us, washing doesn't always help. Instead pigmentation, as early as in the first year, is a sign of the healing process. If you want to stop this, you will have to cover it up until your tattoo completely heals.
Why Do People Like Getting Inked With White Ink?
Some people get white ink to make their tattoos stand out more than others. In fact, white ink is usually used for tattoos that are darker than the rest of the skin. This is because it stands out more against the darker skin— making the tattoo appear more real.
When it comes to white ink tattoos, it is important to understand that you can use all the whites you want. What matters is that you get a tattoo that looks good on you.
Conclusion
If you are going to get a white ink tattoo, you should make sure that it is done by a good tattoo artist. They would know what they are doing, giving you the best tattoo in the process.